Viktor (name changed) had plans for the future, and in general, he was happy with his life. At the age of 26, he confidently moved up the career ladder — on February 28 of this year, he began an internship in a foreign campaign. But since February 24, he, like all Mariupol residents, stood in line under shelling for water, looked for food, collected the remains of coal at the Illich Iron & Steel Works, and sat in the basement. And then he spent a month and a half in the filtration camp of the Russian occupiers. This is exactly what he told in the interview «Vchasno».
«On April 13, two Russian soldiers entered our house and told me and my wife's father to go with them,» Victor recalls. «At the same time, they said that we will return in two hours. As I realized later, I was very lucky, because other soldiers took people, dragging them out of their houses by their hair and in home wear. That is why there were men on our bus in galoshes or slippers on bare feet, but without outerwear. When everyone from our district was gathered, which is 200 men, another military man entered the bus and said that if something went wrong, he would shoot everyone. Somehow I immediately believed him.»
The first videos from the filtration camps near Mariupol appeared in the Ukrainian information space in May. In April, the occupiers forcibly removed about 2,000 people to the camps in the villages of Kozatske and Bezimenne of the Novoazovsk District, said Petro Andryushchenko, an adviser to the mayor of Mariupol. They were residents of the Myrnyi, Volonterivka and Gugline districts of Mariupol. Viktor was among those brought to the filtration camp. In the village of Bezimenne, filtration is carried out at the address: 48 Radyanska Street.
«I had already heard that filtration had begun in Mariupol, but as a person who lived in a civilized country until February 24, I didn't even think that I have to somehow prepare for it.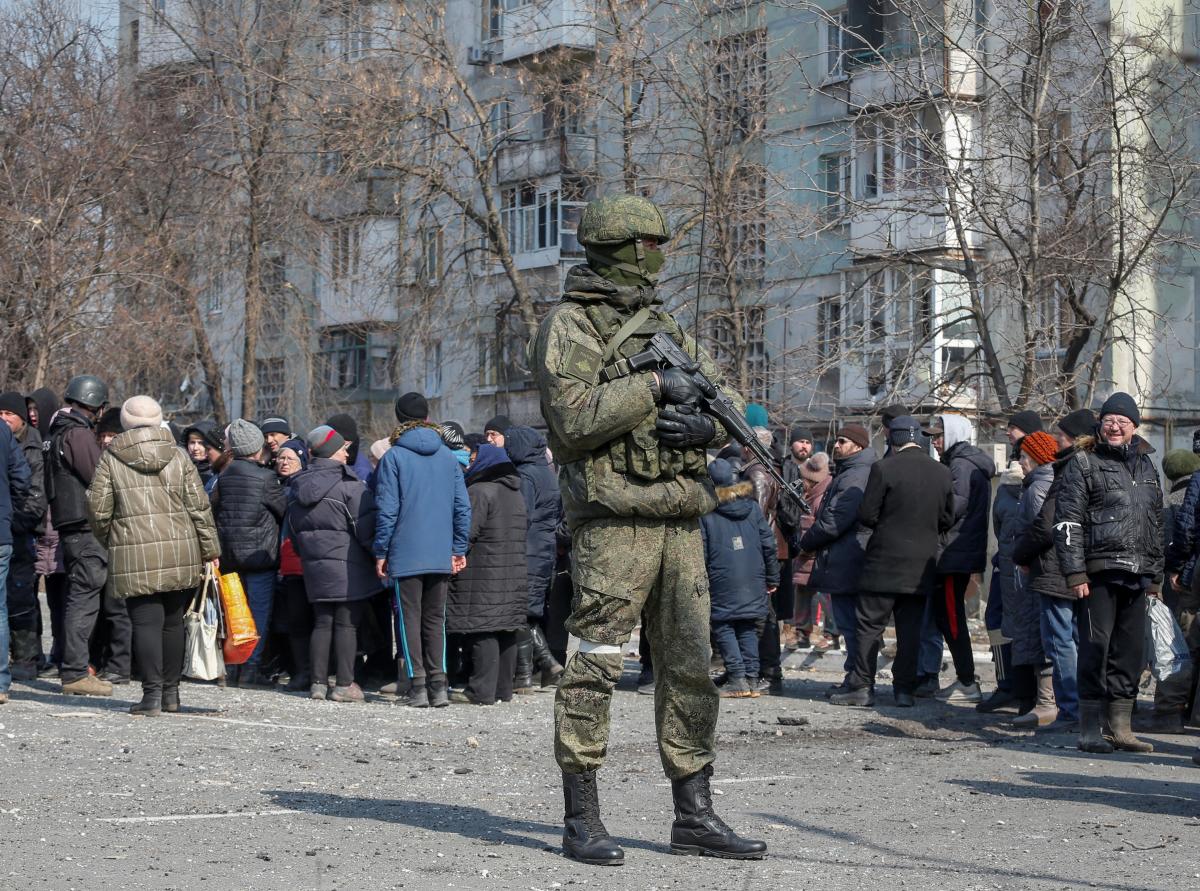 Filtration of the Ukrainians on the occupied territories / photo: REUTERS
During the filtration from April 13, all of us were constantly divided into groups, interrogatedю They examined the bodies and asked questions" Viktor says. «Another interrogation in the village of Bezimenne took place in some large military tent. The first thing I saw when I entered was undressed men with bags on their heads. One was asked questions and each of his answers was accompanied by strong blows on the back and head. I was also undressed and examined, and my face was put against the wall. The first question was about where I served. My answer was «nowhere», and a rude «bullsh*t» followed it. Many times they asked: who do I know from «Azov», journalists, deputies, police. In another tent, there was a huge pile of some kind of devices. I think that they allowed restoring deleted information from phones. My messengers were filled with indignation at what was happening in Mariupol. However, I could correspond with someone only in the first days of the war, because in March there was no longer any communication. In this room were real Russian soldiers in their uniforms. Before that, I had communicated only with representatives of the so-called «Donetsk People's Republic».
At the first interrogation, I was still trying to prove something to these people. My answers made them laugh at best. There were threats that I would be sent to Donetsk. We all knew that it was very bad for people like us there.
After each interrogation, I became calmer and even learned to answer their questions correctly. Deleted all information from the phone. After some time, I received the paper «Fingerprinted. Bezimenne». Obviously, this piece of paper had to mean something to me, because according to them I could move around the territory, the so-called «DPR». That is, I passed the filtration. However, probably according to their plan, I haven't changed much yet."
According to Viktor, all those who were taken out of the Myrnyi microdistrict, which is about 200 men, were reinforced in the Kozatske village school. The man, together with his neighbors from his street, were in one classroom. They expected that they would go home soon. Recorded days of the week on the blackboard. In total, they made 40 records during this time.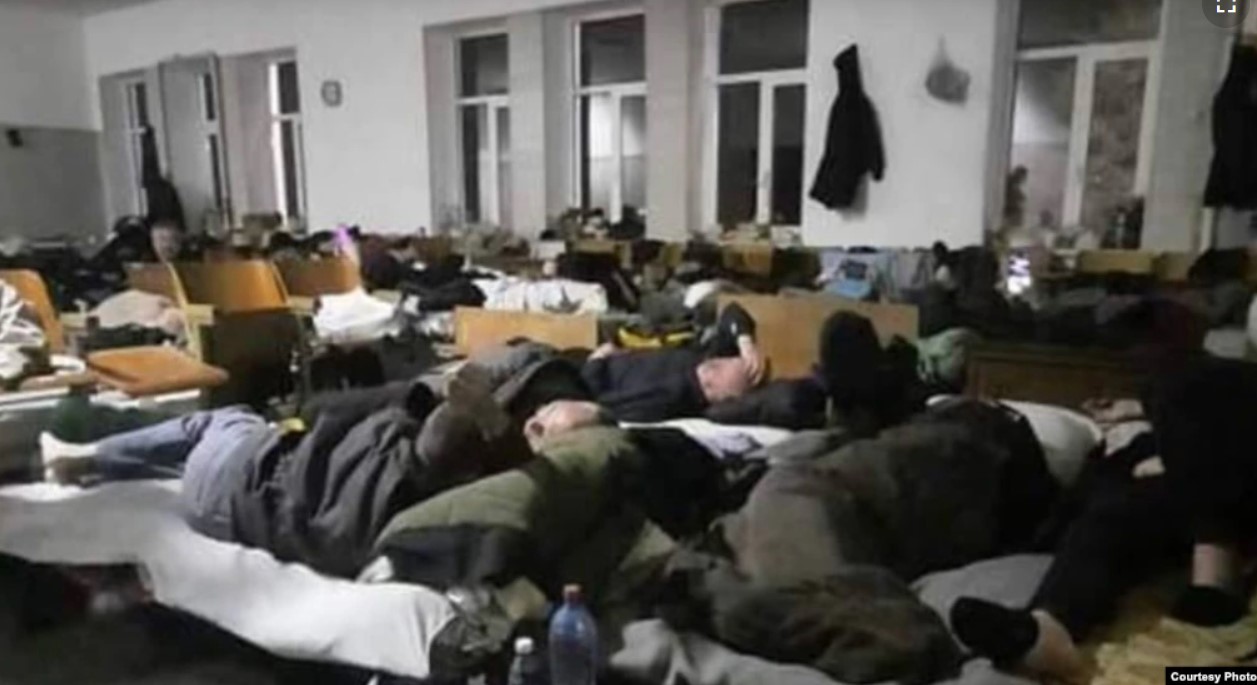 Filtration camp
Macaroni as glue. The epidemic of poisoning. One piece of toilet paper per day
In May, the Russians took almost 300 people from Mariupol to the filtration camp in the village of Bezimenne every week, for a month the number was approximately 3,000 adults and children together. It was reported by Petro Andryushchenko, adviser to the mayor of Mariupol. Filtration was also deployed in other occupied settlements of Donetsk oblast: 11 such camps are already known, but the real number may be higher. Filtration is carried out in Mariupol, Olenivka, Nikolske, Mangush, Kozatske, Novoazovsk, and other cities. What happens in such centers is not only a violation of people's rights, it is a real ghetto and genocide of Ukrainians.
The stay in the filtration camp became another test for the Mariupol residents who survived the shelling and bombardment. These terrible 40 days that Viktor spent there, he will never forget.
«In order to get out of the school building to the territory next to it, it was necessary to register in the security guard,» Viktor recalls. «No one explained anything. Each question remained unanswered at best, more often they were beaten people for such audacity. One man kept asking to let him go home because his paralyzed mother was staying there. Of course, they did not let him go. Then he found out that she died, probably of starvation. He was also not allowed to go to the funeral.
One man died almost immediately at the school. He felt sick and one guy tried to save him, at the same time he asked the security guard, who was just standing by and watching what he was doing, to call an ambulance. They didn't do it. The man died, and his body lay in the corridor for a long time. They then ordered to take him to the sports hall and the deceased lay there for another two weeks.
The school had sinks in which children washed their hands during peacetime. For us, these sinks became everything. Here we washed our faces, bodies, and clothes. And all this without soap, washing powder, or toothpaste. We drank the same tap water. Therefore, a whole epidemic of intestinal diseases began almost immediately. With temperature and other accompanying symptoms. Everyone got sick.
The toilet was outside. That is, to get into it, you also had to register. After that, they gave one piece of toilet paper. One per day.
We ate twice a day. For all 40 days, we ate either pasta or rice. At the same time, they were cooked in such a way that it was not just tasteless, but also impossible to eat at all. The macaroni resembled glue and had a lot of water.
Surprisingly, the Internet worked at school at night. Apparently, the director turned on Wi-Fi. I read Ukrainian news. I could be severely punished for this. At this time, I found out that Ukraine continues to fight. I was very lucky that my acquaintance, having found out where I was, brought me 15,000 rubles. And I was able to buy a «DPR» «Phoenix» SIM card. For this, you had to get permission to go to the post office, and make photocopies of all your documents. 10 SIM cards were delivered once a week. A large line moved slowly. It took me two weeks to buy a normal card. Of course, you can only buy one.
Then I arranged with a local man and he took this SIM card to my wife. And I called her from the phone of a man I made friends with in the camp. I learned that the whole world is helping Ukraine and thought out a plan to leave the occupied territory."
Filtration after filtration
After 40 days, without explaining anything, the occupiers released Viktor from the filtration camp.
«I got home and a day later my wife and I left Mariupol,» the resident of the city recalls. «The goal was to reach Estonia. Through the checkpoints of the occupiers, we passed with "magarych" (giving bribes) — it contained alcoholic beverages and what to "snack" them with. And then with one driver we went to Chongar. Crossing the border ended with me being taken for an "interview". Everything reminded filtration. This time they let me go, but two men from our bus were put in bulletproof vests and forced to squat 100 times.»
Viktor and his wife were able to leave for the Russian city of Rostov-on-Don, and from there they went to St. Petersburg. The couple did not even think about staying in Russia. The border with Estonia was crossed in Ivan-grad. But even here they had to answer various questions and fill out a bunch of papers.
«The first thing we were asked about in Estonia was what kind of help is needed,» Viktor says. «There are Ukrainian flags around here. And people are just nice people who are on your side. Mariupol changed everything. Maybe I won't do many things for a while. But what remains forever is the unforgiveness of this war to Russia and its citizens. Never and forever.»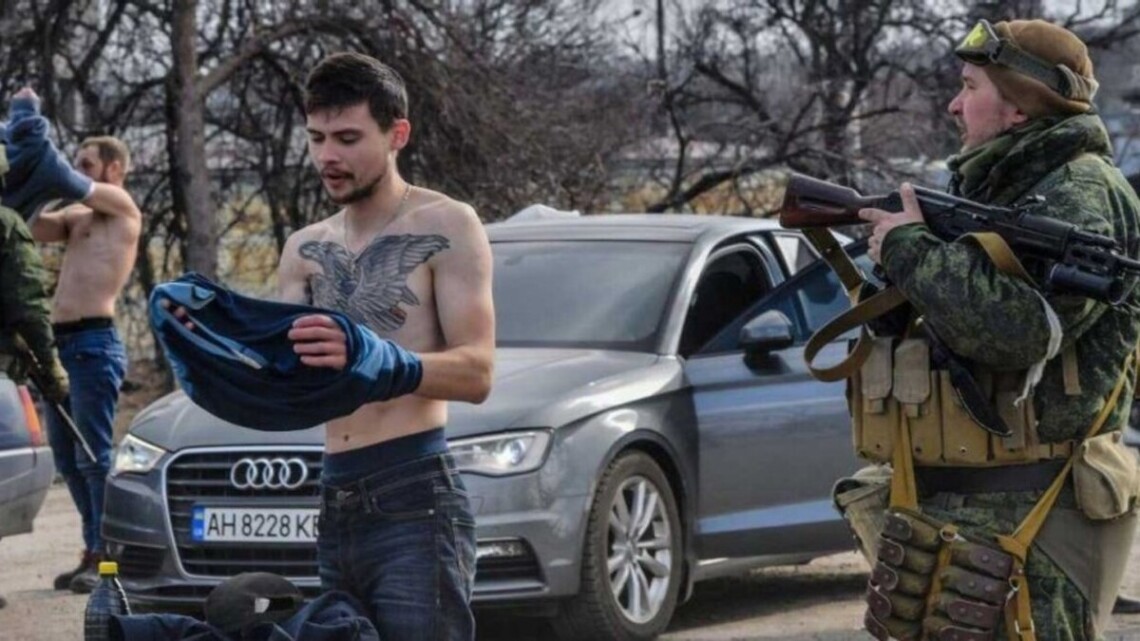 Going through checkpoints
According to the journalists of «I News» and British intelligence, 66 camps have been organized on the territory of the Russian Federation, where the Russian military forcibly deports Ukrainian citizens of Mariupol. According to the materials of the investigation, the deportees are taken 9,000 kilometers from their native homes. They are resettled in a network of former Soviet sanatoriums and elsewhere in regions including Siberia, the Caucasus, the Arctic Circle, and the Far East.
As of May, journalists also managed to find the presence of 6,250 people in 38 camps, including 621 children. When full, 66 camps can hold about 10,800 people, including 1,000 children, and more than a third of the camps are for citizens of Mariupol.